October 27, 2018, Indian customer Terra Motors India Pvt. Ltd. made trip to Henan Riugor Transmission Machinery Co., Ltd. for supplier pre-qualification and business cooperation. The leaders of overseas sales, research and development, production and quality department of Riugor arranged a warm reception.
The Indian customer's visit is aimed at further learning the strength of Riugor company. Under the accompany of Mr. Wang Zhidong, the general manager of Riugor, the customer visited our company's production workshop and show room. The production manager introduced the company's production capacity and technology, research and development strength and core products of gearboxes, electric drive systems and rear drive axles for electric vehicles.
During the visit, Indian customers fully recognized the technical strength and production capacity of our company. Meanwhile, India clients were very interested in Riugor company's intelligent equipment, and were full of praise for the quality of Riugor products.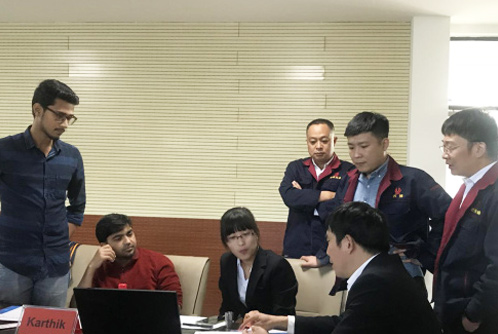 Afterwards, in-depth technical communication of the customer's project was arranged between the engineers of two parties, and reaching a preliminary cooperation intention. Which also build a good foundation for future cooperation.
Terra Motors India Pvt. Ltd. is a subsidiary of Terra Motor Corporation headquartered in Japan. Terra Motors Corporation is No.1 Electric two & three wheelers from Japan. WIth vision of 'Leading innovations with Electric Vehicles in creating a clean and sustainable society'. Terra Motors has business operations in South East Asia and South Asia. With production plant in India, Bangladesh, Vietnam and Japan.